Students' Stories
"My strength and mobility are fantastic and my energy level is back to when I was much younger."
Since beginning this program in late October 2020, the benefits have been amazing. As a person with chronic back pain for 20 years who woke up every few hours because rolling over was difficult, I have been sleeping 6 - 7 hours at a stretch and have stopped taking Melatonin. My strength and mobility are fantastic and my energy level is back to when I was much younger. Bethany is a miracle worker although she won't take the credit 😉. I am not fond of the gym or working out but I look forward to Pilates and am now practicing at home every day with a smile on my face. Thanks Bethany!!!

Bethany has also been working with my son who has autism. We started with pairs classes but he quickly decided he preferred Bethany over me. He sees her once a week and with her thoughtful and patient guidance, he has improved his muscle control and fine motor skills immensely. He carries himself with a confidence and self awareness that wasn't there before and has incorporated Pilates into his daily home workout without any prompting from me.
"Her expert guidance and client-focused approach played a crucial role in my recovery…" 
I am writing this to wholeheartedly recommend Bethany as an exceptional Pilates teacher and coach. Her expert guidance and client-focused approach played a crucial role in my recovery from a concussion. In just two weeks of working with her (2-3 sessions/week), I achieved results that surpassed those obtained through months of traditional concussion rehabilitation methods. Contrary to the 8-9+ months suggested by another healthcare professional, Bethany's tailored approach led to substantial improvements, allowing me to return to a 'normal' lifestyle within a couple of months. Bethany's skillful use of guided physical movement tailored to my individual needs demonstrated the profound impact that Pilates can have on recovery. I am immensely grateful for her expertise and support, and wholeheartedly endorse Bethany for anyone seeking a dedicated Pilates coach.
"A former Provincial-Level Rower of 5 years... I've been subject to all the most common modern training..."
The human body is a center for amazing potential. Like any great machine, it needs all kinds of big and small parts, in and behind the scenes, to work together. It's easy for us to skim over the first couple pages of the instruction manual and get on with our lives, but eventually things don't work right. It's always that one muscle, tendon, or cross-section of the two with a strange name that we don't know where it is or what role it plays. Bethany can find it, and Bethany can set you up to fix it. While she's at it, she provides an inviting and adaptable environment, as well as integrative explanation and feedback for movements performed in the studio. If I, personally, can not only clearly understand and navigate the Pilates experience but also be motivated to learn more (as 20-year old "arts" student), anyone can. Did I mention she loves her job?
A former Provincial-Level Rower of 5 years, with a multi-sport background, I've been subject to all the most common modern training methods in high volume and heavy lifting to competitive tapers and active recovery. As an athlete you mature and realize more and more what is best for your body long and short term, and most of the time it means dialing back and making small adjustments. I knew that as a young person having chronic back pain was a sign for maintenance, not treatment, and if I was going to pick up new skill or get better at others, these adjustments needed to be made above all else, hence, Pilates. It is a great way to gain awareness of your body over time, which is arguably more important than the work itself (Don't worry, your center and parts of your body you didn't even know existed will be awake by the end of it). The training is versatile across all platforms of movement, from Desk Job to Gymnast. Pilates is also very difficult to teach. If it was easy to teach, it would be more popular than Yoga or CrossFit, really. This studio is fortunate to have one of the few practitioners who can truly put it all together whilst maintaining the original values set out by Joe Pilates himself. Ultimately, there isn't an instructor in Fredericton and surrounding area that combines the same level of passion, education, and laid-back professionalism in as effortless a way as Bethany. Trust her process, because it is a journey.
Daniel Seyffarth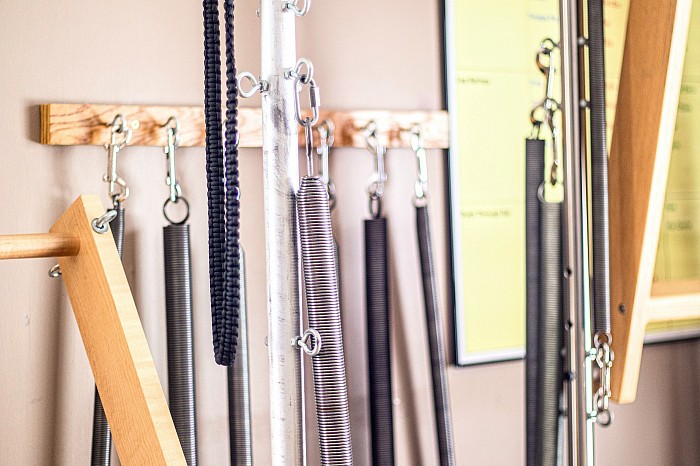 "Bethany has taught me the importance of mindfulness in my movement, both inside the studio and out..."
My life changed when I met Bethany. As a competitive swimmer and gym aficionado, I used to believe that 'exercise' meant pushing my body to its limits, and that the measure of my success as a Pilates practitioner was what exercises I could do, rather than how I did them. Bethany has taught me the importance of mindfulness in my movement, both inside the studio and out (whether it be the garden, kitchen or in the water). Her guidance has shown me that just because I can do something doesn't mean that I should, that sometimes smaller is harder and that I can still work up a sweat with a smile, rather than a grimace plastered on my face. Bethany is an underappreciated gem of a Pilates instructor and Minds in Motion should be the Pilates studio of choice for anyone wanting to really understand movement for the purpose of reducing pain or improving physical performance.
"...her encouragement and her warmth made my recovery a journey."
Bethany's approach to Pilates coupled with her knowledge of the human body have helped me recover from a series of injuries that prevented me from enjoying an active lifestyle. Her ability to tailor a program to my individual needs, her encouragement and her warmth made my recovery a journey.  Pilates with Bethany was a great experience; she is one of Fredericton's very best! I highly recommend Minds in Motion Pilates.
"We all have fun together and Pilates is becoming one of our happy places to be at..."
I'm a swimmer, not a gym person.

I love to swim everyday 1 km in 25 minutes. That was my happy place to go. It was my go to for exercise/ cardio to maintain a healthy body. I have been doing this since my 40's. I have been diagnosed with arthritis in my back and both knees. I am 65 and a candidate for replacement of these joints. Arthritis is "genetically coded " in my family and felt eating right and swimming would be the answer to stay away from surgery.

No. Pilates WITH swimming is the ticket. I started with yoga and Pilates at other studios which were good until my back pain became worse. I then found Bethany's studio, was close to where I lived and the class I went to was smaller. Was going to give up, but something inside said one last chance.

She changed my world! She watches with her hawk eyes and guides my muscles to react properly. Actually it's MY mind that is guided, which makes MY body function properly. Now I can stand and put on my jeans at the same time. I can walk up and down stairs without the security of a handrail. I am not in pain anymore, a "bar" I have as to when I am ready and/or need surgery. Surgery is the LAST resort.

What's even more incredible, my partner, who cannot take instruction well (had to teach him how to dance🙄🥴) is doing really well too! Beth really is that good 😌 

We all have fun together and Pilates is becoming one of our happy places to be at (tough competition with swimming 🙃😊). 

Thank you Beth for teaching us how to maintain the life style we love to keep... bicycling, kayaking, swimming and cross country skiing/ snowshoeing.

Keep on keeping on 😎🖖💖
Wendy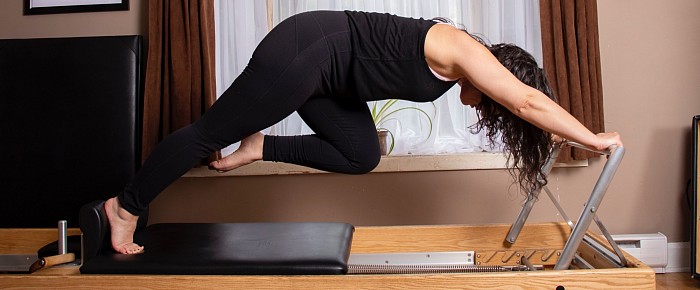 "Each session leaves me feeling rejuvenated and energized..."
I have been taking Pilates classes with Bethany for over a year now and I just love it. I come for one group and two private lessons every week.
I have a full-time job and attend my Pilates classes after work. Each session leaves me feeling rejuvenated and energized, regardless of how tired I was when I came in. Due to my desk job, I get the occasional back/shoulder/neck ache. I like how Bethany adapts each class to match what is going on with my body.
My husband had an old shoulder injury, and, upon my advice, he started Pilates with Bethany. After 20 private lessons, his shoulder's range of motion had greatly improved (and to his great surprise, he lost a few inches from his waist in the process).
Bethany is a patient and caring teacher. With humor and enthusiasm, she keeps the lessons fun, coaxes you to do "just one more" repetition and gently pushes you to reach new limits. I have benefitted from her ability to give precise instructions and cues that create body awareness and alignment. Bethany is also generous with her knowledge and a pleasure to train with.
Because of Pilates, I have developed better posture, feel taller,and am stronger than I have ever been.
Laura Marica (soon to belong to the 50-years-young tribe)
"Having psoriatic arthritis, I need to stay active to keep my joints in good condition..."
Having psoriatic arthritis, I need to stay active to keep my joints in good condition because even the best medication (which I have) cannot solve everything. Before doing Pilates with Bethany, I had all kinds of physical difficulties (even with daily living activities), my back was rounded, my hips were sometimes kind of crooked and I felt old and a bit sorry for myself. Now I feel great! I am straight, my morale has greatly improved and no one believes me when I mention my age (71 and a half)! I am still able to work full time without any problems. I can do things that I would not have thought possible any more… which is good, as I am about to semi-retire.
Thank you, Bethany, for taking your skills to such levels. You can see exactly what my body needs to function well… all while making sure I do not to exert too much pressure on my joints, tendons and ligaments. You have transformed my life!
You are a true partner in my well-being, just like my rheumatologist and my general physician.
Rita Vallières

"...passion for the work and attention to detail..."
After years of starting and abandoning many exercise programs, I discovered Pilates about 8 years ago and have been doing it ever since. I've had several different instructors and think Bethany is great. Her passion for the work and attention to detail ensures I make continuous progress, and she keeps it interesting. I highly recommend Minds In Motion Pilates!
"[It's] a way of life..."
I have been taking private lessons from Bethany for 5yrs. I initially went to her at the recommendation of my physiotherapist who had also practiced Pilates under Bethany's instruction. I had been experiencing unexplained nerve pain and low back disc issues-I had tried every "fix" in the city including physio, chiro, massage, acupuncture, holistic medicine, spinal decompression machines etc. etc. etc.  Bethany's confidence in what Pilates could do for me gave me hope that I had found something that could work! Bethany's studio is well equipped and Bethany is AMAZING at explaining things at a pace that is not too overwhelming (there are a lot of pieces to pilates that you could easily become overwhelmed at the thought of IF the instructor doesn't introduce it at the right pace). I will honestly say that it took me about a year of practicing 3 ½ hour sessions/week to FULLY understand what Pilates is all about- the improvement in my condition though came much quicker. In a nutshell, EVERY exercise you do utilizes EVERY part of your body-always beginning with your core. One thing Bethany did for me early on that helped me to understand where the movement needs to originate from was that she put her hand on my upper back and told me to circle my arm-BUT-she said she wanted to feel my back muscles move before she saw my arm move-aha! I got it ;) Pilates is not about hanging off joints or flopping around body parts…it is about doing all movements in a CONTROLLED fashion….which becomes second nature in your ever day life….eventually ;) I use my "pilates body" every day…going up and down stairs, bending over, lifting. Pilates has taught me how to do these things properly with "lift" and "strength." Pilates has helped me to understand how to do my own "spinal decompression"- sitting or standing, I know how to engage my core and other muscles to allow my lower back to "have space" and decompress- for me, this is huge. Pilates helped me to understand that so much of our pain is due to poor alignment in your body- when muscles are "woken up" and strengthened to stay in the position that gets your body as close to being aligned as is possible for you, the pain is alleviated. Your body truly feels so much stronger, alert and awake following a work-out! Pilates gave me my life back-it sounds extreme, I know, but I was avoiding going to restaurants or doing anything else where I would be required to sit for any length of time…..I can do it now. And WOW do I see the difference when I take a few weeks off! The nice thing is that it only takes a few sessions for parts and pieces to be re-awoken and work as they should! Like any exercise, the more you practice, the more you will benefit…and Bethany is excellent at making sure you are well equipped to be able to practice many pilates exercises at home! It's remarkable how you come to understand how the parts of your body work together and how to decompress and realign your posture IN EVERY DAY LIFE- Sitting, standing, lifting, bending….I am using what I learn every day and that is amazing to me. The hardest part of my pilates journey is trying to help people understand what pilates is/does and convince them to give it a try!! You really do have to experience it first hand and GIVE IT TIME-it's not a quick fix, but rather a way of life. And honestly, it's not rocket science….IT. JUST. MAKES. SENSE. I love my time with Bethany and appreciate all of the support and guidance she has given me over the years.
Tara Murray